Synthetic Turf Sports Fields
Advantages of
SYNTHETIC TURF SPORTS FIELDS

Custom Turf provides synthetic turf sports fields for a variety of artificial turfs sport fields. We have installed sports fields on behalf of a wide range of professional, semi-professional, collegiate and amateur sporting venues. Additionally, we have supplied a number of municipalities, colleges, universities, and school districts with synthetic turf for use in intramural play fields. Our synthetic sports turf can be installed in both indoor and outdoor venues.
Custom Turf's sports field surfaces are durable, dependable and safe. This synthetic option offers unlimited play, low maintenance and performance found only in the best kept grasses. Our proven synthetic sports surfaces are ideal for soccer fields, football fields, baseball fields, multi-purpose fields, lacrosse, field hockey, bocce, and croquet.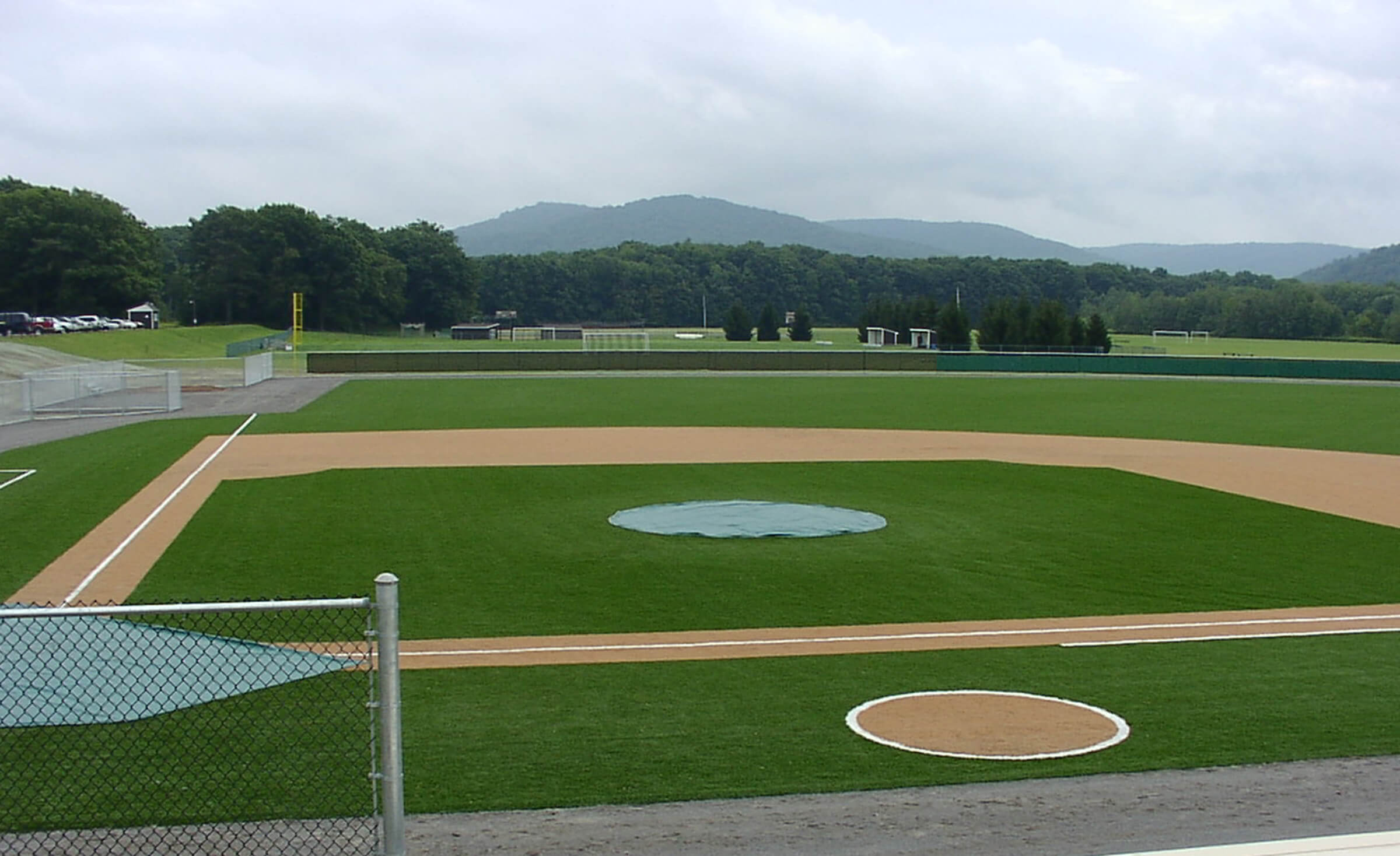 Increased time of use.
Improved performance and safety.
Allows for multiple uses.
Virtually no maintenance.
Requires no water.
Always ready for use.
No need for mowing, chemicals, fertilizers, or pesticides.
Lush fresh cut appearance.
Saves you time and money.
Synthetic Turf Sports Fields Installation Gallery

PET SAFE
Custom Turf 's synthetic grass is specifically engineered to be safe for pets with a high-flow drainage system. Unlike real grass, synthetic turf doesn't require treatment of pesticides and fertilizers.

MADE IN THE USA
Custom turf is proudly made in the United States of America! The manufacturing plant provides hard working jobs for American workers that produce the highest quality artificial turf in the industry.

REALISTIC LOOK & FEEL
Custom Turf incorporates a unique blend of multi colored blades that mesh together to match the look and feel of natural grass.

UNMATCHED WARRANTY
Custom Turf offers an unmatched warranty, honoring high quality playability and reliability that's kept our synthetic turf products the leaders of the industry since 1996.
Custom Turf Installs and Services
Synthetic Turf Sports Fields

in the following areas:

Western New York:
Amherst, NY | Bemus Point, NY | Buffalo, NY | Chautauqua Lake, NY | Clarence, NY | East Aurora, NY | Ellicottville, NY | Hamburg, NY | Jamestown, NY | Kenmore, NY | North Tonawanda, NY | Olean, NY | Orchard Park, NY | South Buffalo, NY | Springville, NY | Tonawanda, NY | West Seneca NY

Northwestern Pennsylvania:
Bradford, PA | Eldred, PA | Warren PA
Need more information about getting artificial grass installed in your home or business?
Contact our experienced staff for a free estimate today!