Artificial Turf Athletics
Advantages of
ARTIFICIAL TURF ATHLETICS

Custom Turf provides the athletic industry with a number of artificial turf athletics solutions for various applications. We offer synthetic turf for gym flooring and weight lift areas. Many gyms, training facilities, and schools are implementing synthetic turf for agility training areas, where athletes and everyday people are using circuit training routines. This type of training has grown in popularity over the years, and it is a staple of any true athlete's workout regime. Synthetic turf is the perfect solution for these areas because the we can simulate real conditions, and the added cushion of some products reduces stress on the joints. So when you are looking to improve your facility, your team, or yourself, look no further than Custom Turf.
Perfect for training
High performance quality
Improved durability and safety
Helps create multipurpose facilities
Reacts naturally
Virtually maintenance free
Clean and can be cleaned easily
Consistent performance over time and use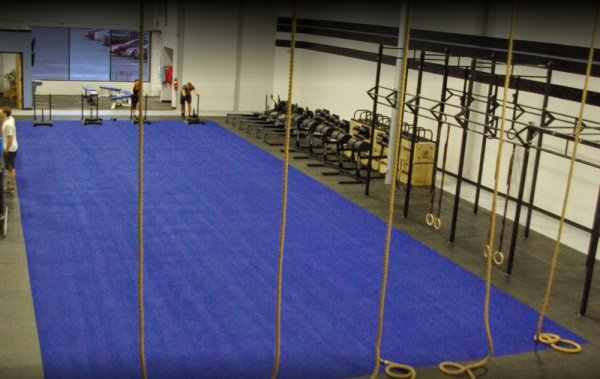 View Our Artificial Turf Athletics
Photo Gallery

PET SAFE
Custom Turf 's synthetic grass is specifically engineered to be safe for pets with a high-flow drainage system. Unlike real grass, synthetic turf doesn't require treatment of pesticides and fertilizers.

MADE IN THE USA
Custom turf is proudly made in the United States of America! The manufacturing plant provides hard working jobs for American workers that produce the highest quality artificial turf in the industry.

REALISTIC LOOK & FEEL
Custom Turf incorporates a unique blend of multi colored blades that mesh together to match the look and feel of natural grass.

UNMATCHED WARRANTY
Custom Turf offers an unmatched warranty, honoring high quality playability and reliability that's kept our synthetic turf products the leaders of the industry since 1996.
Custom Turf Installs and Services
Artificial Turf Athletics

in the following areas:

Western New York:
Amherst, NY | Bemus Point, NY | Buffalo, NY | Chautauqua Lake, NY | Clarence, NY | East Aurora, NY | Ellicottville, NY | Hamburg, NY | Jamestown, NY | Kenmore, NY | North Tonawanda, NY | Olean, NY | Orchard Park, NY | South Buffalo, NY | Springville, NY | Tonawanda, NY | West Seneca NY

Northwestern Pennsylvania:
Bradford, PA | Eldred, PA | Warren PA
Need more information about getting artificial grass installed in your home or business?
Contact our experienced staff for a free estimate today!