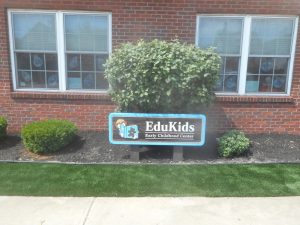 EduKids, a childcare center will be opening a brand new 9,000 square foot center in the heart of Orchard Park, New York.
The new facility will be located at 3943 North Buffalo Road, Orchard Park, New York 14127. Custom Turf installed their premium synthetic turf for the toddler yard and around the playground equipment. This new turf conforms to ASTM F1292 standard specifications for impact attenuation of surface systems.
EduKids opened their first center in 1989, in Orchard Park center, located in the heart of the village across the street fromt the middle school.
Safety should always come first when it comes to the well being of our children. That's why EduKids reached out to Custom Turf for a safe and fun playground surface for children to play on. Custom Turf's playground recreation turf, exceeds national safety standards and is ASTM certified. This synthetic turf play surface is fully ADA/ABA compliant and is consistent with all U.S. Consumer Product and Safety Commission requirements. Custom Turf enhances their playground surface complete with fall zones and all components are biodegradable and/or recyclable and lead-free. As most antimicrobial products are, this playground surface doesn not support stain or odor causing bacteria, mold or mildrew.
The children have a large, soft and safe surface to play on, and their parents won't be burneded with grass stains on their clothes.