Custom Turf, Western NY's and Northwestern PA's premier synthetic turf installers are now making their turf available for consumers to buy across the nation. This is groundbreaking in the turf installers industry to package their synthetic turf and send it to your door.
Custom Turf Outlet's line, which is growing, sells Indoor Pet Turf, perfect for apartment dwellers that have pets that need a place to go, when their owners are out.
Driving Range Mats, are great for people who want to drive balls in their backyard, without having to maintain the space from divots and enjoy for years and never practice in the mud.
Bocce Ball Courts are a durable and fun way to enjoy the ever growi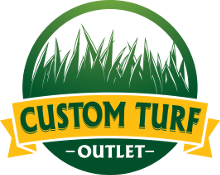 ng sport of bocce ball. Custom Turf Outlet offers bocce ball courts with and without lines, that are colored from the factory, not painted on, so they won't fade.
Baseball Turf Mats will endure the wear and tear of a baseball teams muddy cleats and shoes. Theses mats are specifically designed for cleats and won't tear up like grass or dirt.
Putting Greens, are still in development, but when they're rolled out and put into production, they will be a cut above the rest in terms of quality and performance.
The great thing about Custom Turf Outlet, much like Custom Turf is that if you have a small area, or design in mind, you can place a Custom Cuts made to order and have it shipped to your door as well. In the past some of our Custom Cut's have been small outdoor pet area, logos, that never fade or need to be maintained, and even indoor putting greens. Give our friendly staff a call and we will work with you on your designs to make the perfect cut.
Custom Turf Outlet has these items in production now, but check back for new and exciting additions to their synthetic turf products.