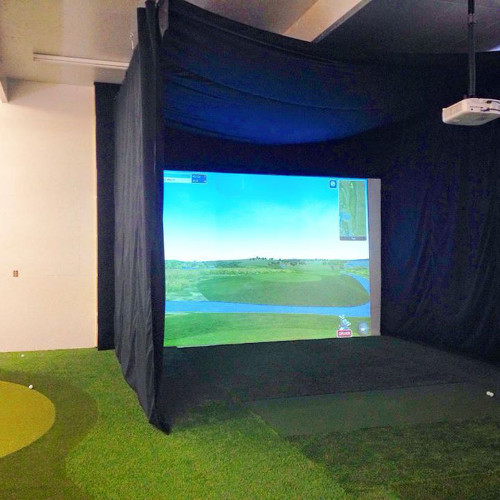 Custom Turf installs synthetic turf for new PGA Golf Training Studio in Ellicottville, NY.
Jake Northrup, the PGA Head Golf Pro at Pennhills Golf Club in Bradford, PA has open up a PGA Golf Training Studio in Ellicottville, NY.  Custom Turf installed the synthetic turf, that students will use along with the state-of-the-art technology to improve their golf game.
The new training facility is located in an old diesel garage on Route 219 and has been transformed into a state-of-the-art golf training facility that gives golfers a place to recieve professsional lessons in the coldest days of winter in the Souther Tier New York ski region.
Custom Turf installed the superior synthetic turf putting green, fringe and tee box at the new facility, giving golfers the real feal of an actual outdoor golf course.
Students of Northrup will be hitting off Custom Turf's american made tee box and into a 15′ X 10′ impact screen that sensors will track the balls flight. The simulator will include 56 courses from around the world to play on such as Torrey Pines and Oakmont Country Club, just to name a few.
Tee times are required and can be made by calling: (516) 712-5941
Address:6633 Rt 219,
Ellicottville, NY 14731
The facility will consist of three areas:
A full swing section for irons and woods
The short game area for chip shots
Putting green