Custom Turf was called upon for their expertise and quality turf products to install a 3-lane indoor turf track for IMPACT Sports Performance at Downtown Buffalo's new HARBORCENTER.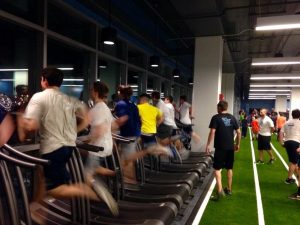 IMPACT Sport Performance is an educational and competitive atmosphere of elite training, that strives to develop individual and team potential by promoting high standards. Their facility is located on the 6th floor of HARBORCENTER which includes state-of-the-art weight room including USC Olympic Racks & Platforms, Keiser Equipment, Vertimaxes, Slide Boards and Custom Turf's 35 yard 3-lane indoor turf track.
According to IMPACT Sports Performance website, the 35 yard 3-lane indoor turf track provides our athletes with a safe and realistic training surface for speed and agility drills.
Clients of IMPACT Sports Performance have the advantage of being trained by the same clinicians who train individuals at the highest levels.
Programs include:
Professional & Collegiate athletes looking for intense, evidence based training
High School programs available for athletes looking to take their performance to the next level
Youth programs fundamentally based around body weight movements
Promoting power, speed, explosiveness & injury prevention on all levels