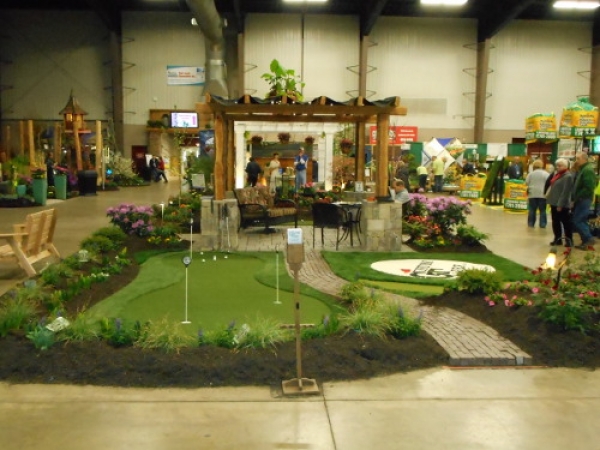 Custom Turf adds new products and services to the Plantasia Home & Landscape Show 2015 in Hamburg NY. This year the theme of the show was "Every Garden Tells A Story." The Show-goers walked on and felt the premium synthetic turf that Custom Turf installs and even had the opportunity to practice their short game on a synthetic putting green.
Throughout the weekend of March 19 – 22, there was a lot foot traffic and people enjoyed walking down the stone walkway that split between the 9′ x 18′ putting green and the Custom Turf logo to the large tranquile pergola.
Custom Turf's display of synthetic turf, hardscaped walkways and landscaping drew the attention of many, including the Buffalo News, which featured a large photo of the putting green on the cover of the Lifestyles section.
The long winter drew large crowds of people eager to think Spring and speak to professionals about how to improve thier properties. Custom Turf spoke to many people interested in their products, which includes the hardscaping service and many applications within the synthetic turf products. Everything from bocce ball courts to custom logos on premium turf was of particular interest this year.