Buffalo Synthetic Grass Putting Greens and Golf
Synthetic Grass Putting Greens and Golf Buffalo, NY

Choosing the perfect artificial turf in Buffalo, New York, as there are many options on the market. If you seek professional-grade synthetic grass consider the following:
Amazing looking: Compare our synthetic turf to real grass.
Ideal drainage: Your artificial turf needs to be able to efficiently drain from downpours of light drizzles.
Top blade density: Texturized polypropylene putting greens and high-grade tee line surfaces.
Secondary Backing: Foam backing to reduce fatigue and increase surface durability.
Versatility: Our products can be matched to fit any and every golfer.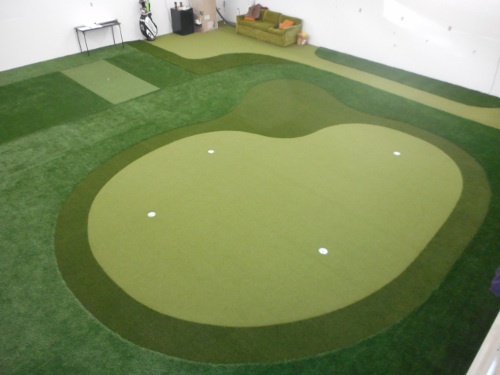 Leave the Mud Outside with Synthetic Turf
Synthetic artificial grass in Buffalo is especially valuable in those high wear and tear areas, such as where kids or dogs play all the time, and bald patches start to form that never seam to regrow. These bald, muddy patches can be a problem after it rains causing a wet and muddy mess. Getting professional installed premium synthetic turf will blend in nicely with with the rest of your landscaping and will overcome the mud and mess problem while contributing to a clean environment.
Never Mow Your Lawn Again with Synthetic Turf
Many people spend and enormous amount of money on lawn maintenance each year in Buffalo, NY. Or worse people spend their weekends mowing their lawn on a heavy rainy season, and mission out on all the great events Buffalo summers offer. On average it takes 30 minutes to mow just 10,000 square feet of grass. By having professionals install premium synthetic grass, you will have more time to enjoy your home, and less time maintaining it.
Low Maintenance & Water Costs with Artificial Turf
Artificial grass in Buffalo, New York will save money on utilities, spend less time and energy on maintenance, make your lawn better looking and colorful, and increase your home's curb appeal – all of that while supporting our environment and local ecosystem. Regardless of how much you spend on water each year, Buffalo Synthetic Grass Putting Greens and Golf can save you money while looking amazing year-round.
Endless Design Possibilities with Artificial Turf
One great advantage about synthetic grass in Buffalo, New York is that it can be used in many places where it is not always possible to grow real grass, like rooftops, backyards with dogs, indoors, pool areas, or those areas that get little to no sunshine at all. Custom Turf's premium synthetic turf looks and feels like the real thing, are are safe for children and pets.
Pricing
Synthetic turf and professional installation is calculated by square footage, turf application, labor costs, artificial turf selection the size and scope of project and other factors as well. While the cost of synthetic turf and installation by seem high, once installed, the cost to maintain it is almost nothing, compared to sod or natural grass maintenance.
Service Area
We have installed artificial turf in virtually all cities throughout the Western New York and Northeastern Pennsylvania regions. From Indoor Sports Gyms to Basement Putting Greens, we have worked on residential and commercial turf projects from Bradford, PA to Buffalo, NY – and just about everywhere in between.
Western New York:
Amherst, NY | Bemus Point, NY | Buffalo, NY | Chautauqua Lake, NY | Clarence, NY | East Aurora, NY | Ellicottville, NY | Hamburg, NY | Jamestown, NY | Kenmore, NY | North Tonawanda, NY | Olean, NY | Orchard Park, NY | South Buffalo, NY | Springville, NY | Tonawanda, NY | West Seneca NY
Northwestern Pennsylvania:
Bradford, PA | Eldred, PA | Warren PA
Synthetic Turf for Buffalo, New York Home & Business Owners
Synthetic turf doesn't need to be watered, fertilized or mowed. It's resistant to wear and tear, and protects from gophers, which cause big problems to yards and landscapes. Our artificial turf provides equal parts durability and aesthetic appeal. Natural grass can be very labor intensive and time consuming due to ongoing maintenance, but the same can't be said of Custom Turf's synthetic turf. Using artificial grass for your commercial properties is not only good for the environment, it also helps to contribute to our enviroment. Lowering your overhead costs from lawn maintenance is a great way to increase your profits.
View Our
Buffalo Synthetic Grass Putting Greens and Golf Photo Gallery

PET SAFE
Custom Turf 's synthetic grass is specifically engineered to be safe for pets with a high-flow drainage system. Unlike real grass, synthetic turf doesn't require treatment of pesticides and fertilizers.

MADE IN THE USA
Custom turf is proudly made in the United States of America! The manufacturing plant provides hard working jobs for American workers that produce the highest quality artificial turf in the industry.

REALISTIC LOOK & FEEL
Custom Turf incorporates a unique blend of multi colored blades that mesh together to match the look and feel of natural grass.

UNMATCHED WARRANTY
Custom Turf offers an unmatched warranty, honoring high quality playability and reliability that's kept our synthetic turf products the leaders of the industry since 1996.
Need more information about getting Buffalo Synthetic Grass Putting Greens and Golf installed in your home or business?
Contact our experienced staff for an estimate on your project today!
(716) 945-0283