Artificial Turf For Dogs Installation

Tired of muddy paws, messy kitchens and damaged lawns? Concerned about the expense of upkeep on your yard. Custom Turf's artificial turf for dogs will eliminate all those problems. No more muddy mess and torn up lawns, both you and your dogs will love artificial turf.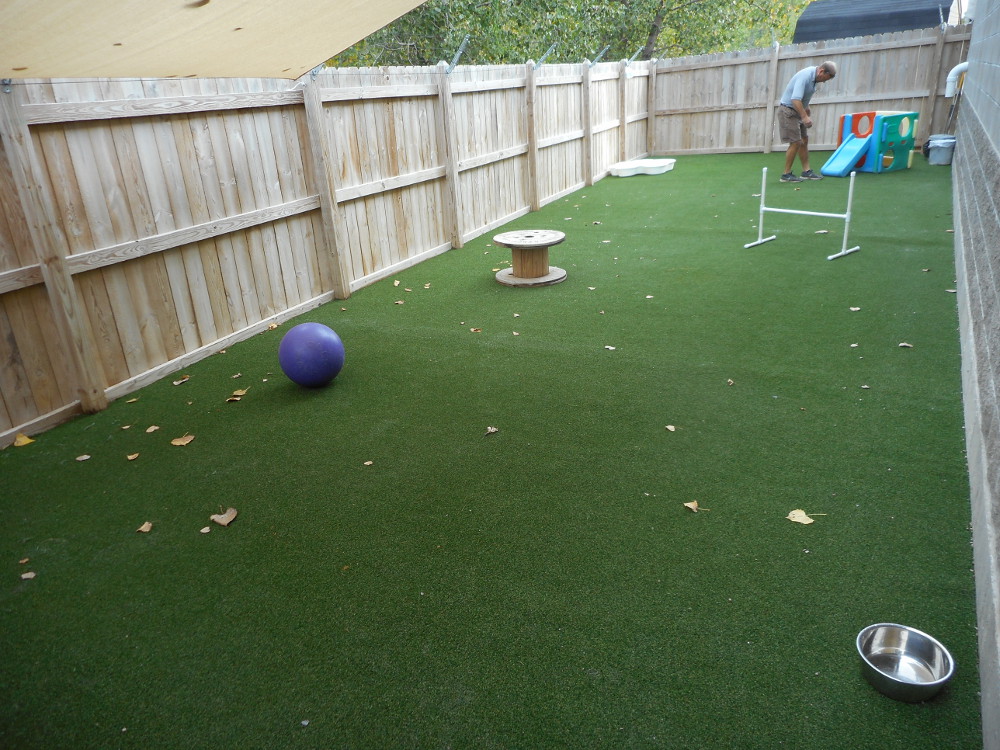 Front, Side and Backyard Synthetic Turf
Artificial grass is becoming increasingly popular among homeowners looking for a real looking grass that won't tear up from dogs playing. Artificial grass requires no water, and can be enjoyed year-round. The resiliency of Custom Turf's artificial turf for dogs is the main reason why people want to convert from natural grass.
Top-grade Synthetic Turf for Dogs
Easy to clean and easy to deodorize. Pets tend to go where there comfortable or that special little patch of gravel, cement or natural grass. Introduce artificial grass, and pets accustomed to using the natural stuff, will naturally adapt after a short transitional period.
It's Easy to Clean Up
Artificial grass is easy to clean when it comes to pet droppings. You simply scoop them up as you would on normal grass and then hose the grass off. A deodorizer is recommended to eliminate any residual odor.
Improve Your Property
Artificial turf has come a long way in both appearance and quality. Even dogs have a difficult time telling the difference with Custom Turf's premium synthetic turf. The severity of drought conditions across the country has many people installing synthetic turf for year-long appeal and functionality.
Pricing
Synthetic turf and professional installation is calculated by square footage, turf application, labor costs, artificial turf selection the size and scope of project and other factors as well. While the cost of synthetic turf and installation by seem high, once installed, the cost to maintain it is almost nothing, compared to sod or natural grass maintenance.
Service Area
We have installed artificial turf in virtually all cities throughout the Western New York and Northeastern Pennsylvania regions. From Indoor Sports Gyms to Basement Putting Greens, we have worked on residential and commercial turf projects from Bradford, PA to Buffalo, NY – and just about everywhere in between.
Western New York:
Amherst, NY | Bemus Point, NY | Buffalo, NY | Chautauqua Lake, NY | Clarence, NY | East Aurora, NY | Ellicottville, NY | Hamburg, NY | Jamestown, NY | Kenmore, NY | North Tonawanda, NY | Olean, NY | Orchard Park, NY | South Buffalo, NY | Springville, NY | Tonawanda, NY | West Seneca NY
Northwestern Pennsylvania:
Bradford, PA | Eldred, PA | Warren PA
View Our
Tour Quality Synthetic Turf Putting Photo Gallery

PET SAFE
Custom Turf 's synthetic grass is specifically engineered to be safe for pets with a high-flow drainage system. Unlike real grass, synthetic turf doesn't require treatment of pesticides and fertilizers.

MADE IN THE USA
Custom turf is proudly made in the United States of America! The manufacturing plant provides hard working jobs for American workers that produce the highest quality artificial turf in the industry.

REALISTIC LOOK & FEEL
Custom Turf incorporates a unique blend of multi colored blades that mesh together to match the look and feel of natural grass.

UNMATCHED WARRANTY
Custom Turf offers an unmatched warranty, honoring high quality playability and reliability that's kept our synthetic turf products the leaders of the industry since 1996.
Need more information about getting Artificial Turf For Dogs installed in your home or business?
Contact our experienced staff for an estimate on your project today!
(716) 945-0283