Artificial Grass Installation Professionals
Artificial Grass Installation Professionals and Sales

Custom Turf designs and installs tour quality, artificial putting greens using the most premium synthetic turf on the market today. One of the nicest things about living in Western New York and Northwestern Pennsylvania is the beautiful weather and changing of the seasons. However, it snows many inches each year. For this reason, Custom Turf has developed and designed numerous indoor putting greens and synthetic turf spaces for year-round practice and entertainment.
Long-lasting and durable.
High flow drainage system.
Non-absorbent materials.
Lush fresh cut appearance.
Safe for pets of all sizes.
Easily to clean.
Softer on joints.
No harmful chemical, fertilizers, or pesticides.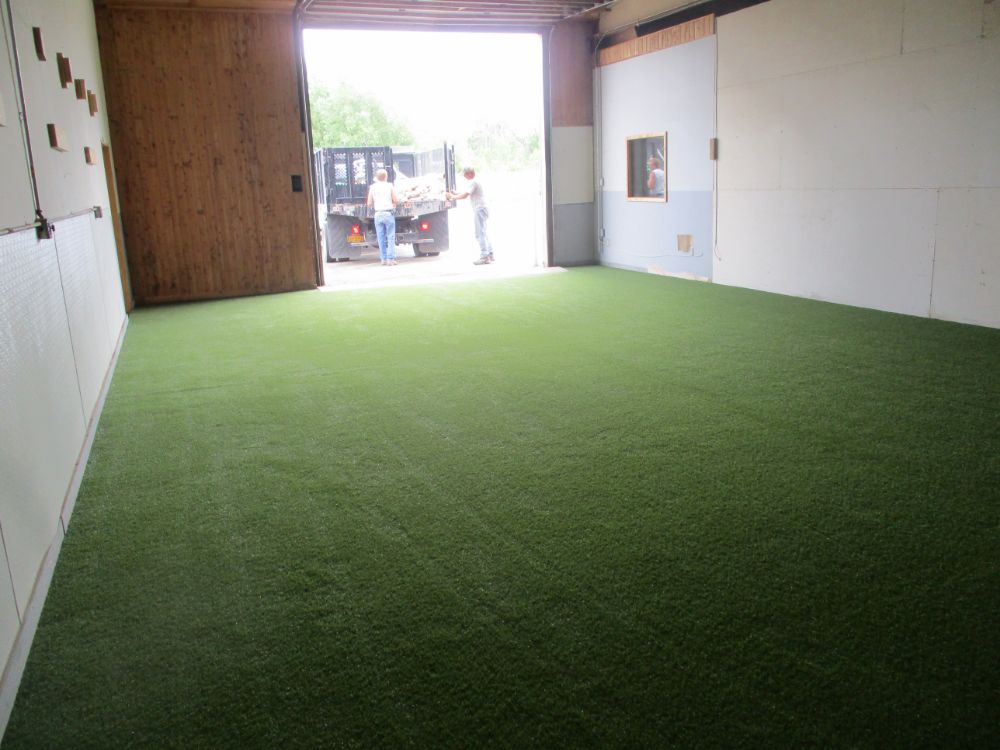 Designed For Year-round Use
Our premium putting green turf has been manufactured to perform perfectly every time, with optional fringe, rough cuts and even bunkers, these putting greens are professional grade and mimic real golf course putting greens. Utilizing an otherwise unused space and convert it into a turf area for a gyms, sports facilities, pet turf, dog agility runs, putting greens, bocce ball courts and other applications, which are perfect for using during the winter and wet months.
Artificial Grass Installation for Sports Prevents Injuries
Custom Turf provides the most cutting-edge and current artificial grass for indoor sports. The friction caused by large athletes with cleats is less compared to natural grass. This causes a lower possibility of players getting injured by friction from natural grass. The synthetic turf retains a higher level of heat than natural grass. Artificial grass can be applied to both indoor and outdoor facilities, in both cases the durability and absorption makes it a safe and low maintenance alternative to natural grass.
Pricing
Synthetic turf and professional installation is calculated by square footage, turf application, labor costs, artificial turf selection the size and scope of project and other factors as well. While the cost of synthetic turf and installation by seem high, once installed, the cost to maintain it is almost nothing, compared to sod or natural grass maintenance.
Service Area
We have installed artificial turf in virtually all cities throughout the Western New York and Northwestern Pennsylvania regions. From Indoor Sports Gyms to Basement Putting Greens, we have worked on residential and commercial turf projects from Bradford, PA to Buffalo, NY – and just about everywhere in between.
Western New York:
Amherst, NY | Bemus Point, NY | Buffalo, NY | Chautauqua Lake, NY | Clarence, NY | East Aurora, NY | Ellicottville, NY | Hamburg, NY | Jamestown, NY | Kenmore, NY | North Tonawanda, NY | Olean, NY | Orchard Park, NY | South Buffalo, NY | Springville, NY | Tonawanda, NY | West Seneca NY
Northwestern Pennsylvania:
Bradford, PA | Eldred, PA | Warren PA
View Our
Artificial Grass Installation Professionals Photo Gallery

PET SAFE
Custom Turf 's synthetic grass is specifically engineered to be safe for pets with a high-flow drainage system. Unlike real grass, synthetic turf doesn't require treatment of pesticides and fertilizers.

MADE IN THE USA
Custom turf is proudly made in the United States of America! The manufacturing plant provides hard working jobs for American workers that produce the highest quality artificial turf in the industry.

REALISTIC LOOK & FEEL
Custom Turf incorporates a unique blend of multi colored blades that mesh together to match the look and feel of natural grass.

UNMATCHED WARRANTY
Custom Turf offers an unmatched warranty, honoring high quality playability and reliability that's kept our synthetic turf products the leaders of the industry since 1996.
Need more information about getting artificial grass installation professionals installed in your home or business?
Contact our experienced staff for an estimate on your project today!
(716) 945-0283