Tour Quality Putting Green Turf

Choosing the perfect Putting Green Turf can be difficult, as there are many options on the market. If you seek professional-grade synthetic grass consider the following:
Amazing looking: Compare our synthetic turf to real grass.
Ideal drainage: Your artificial turf needs to be able to efficiently drain from downpours of light drizzles.
Top blade density: Texturized polypropylene putting greens and high-grade tee line surfaces.
Secondary Backing: Foam backing to reduce fatigue and increase surface durability.
Versatility: Our products can be matched to fit any and every golfer.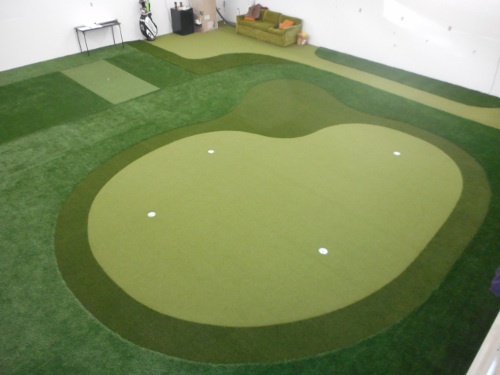 Improve Your Putting Green Turf
Finding the place and time to practice your putting in the Western New York and Northwestern Pennsylvania area can be difficult depending on the time of year. The more practice you have, the closer to becoming the golfer you want to be. With over 65% of all golf shots being taken on or around the green, the short game is considered the most fundamental part of the game of golf. With a putting green in your own backyard, front yard, basement, rooftop, den or office, finding time to practice and improve your game is much easier.
Backyard & Indoor Putting Greens
Custom Turf installs tour quality premium turf for the finest golf putting greens for indoors or out. Years of fun for your family, friends or coworkers can be experienced in the backyard, game room, pool area, patio, rooftop, basement, office or conference room. Incredibly realistic and durable putting greens with the look, feel and speed of real grass putting greens, backed by an unmatched warranty.
Tour Quality Synthetic Turf Putting
Custom Turf's premium putting green turf maintains a natural ball roll with realistic speeds that is used by many amateur and professional golfers. Our putting surface offers a natural look and performance that can't be found anywhere on the market. This tour quality surface features dense, non-directional cross-stitched construction. The blades are so dense, no infill is required, which makes it portable if necessary.
Endless Design Possibilities with Artificial Turf
Custom Turf's professional line of putting green surfaces are very versatile and can be used for numerous applications. With multiple color options to choose from and foam backing our greens provide a realistic roll with natural speed. We can customize a solution for your space with a fringe, rough cut and even bunkers.
Pricing
Synthetic turf and professional installation is calculated by square footage, turf application, labor costs, artificial turf selection the size and scope of project and other factors as well. While the cost of synthetic turf and installation by seem high, once installed, the cost to maintain it is almost nothing, compared to sod or natural grass maintenance.
Service Area
We have installed artificial turf in virtually all cities throughout the Western New York and Northeastern Pennsylvania regions. From Indoor Sports Gyms to Basement Putting Greens, we have worked on residential and commercial turf projects from Bradford, PA to Buffalo, NY – and just about everywhere in between.
Western New York:
Amherst, NY | Bemus Point, NY | Buffalo, NY | Chautauqua Lake, NY | Clarence, NY | East Aurora, NY | Ellicottville, NY | Hamburg, NY | Jamestown, NY | Kenmore, NY | North Tonawanda, NY | Olean, NY | Orchard Park, NY | South Buffalo, NY | Springville, NY | Tonawanda, NY | West Seneca NY
Northwestern Pennsylvania:
Bradford, PA | Eldred, PA | Warren PA
Synthetic Putting Greens for Home & Business Owners
Natural greens require a lot of trained maintenance and water. Our putting green surfaces look great year round with almost no maintenance. The 5mm foam backing layer keeps the turf flat, supple and allows it to bridge subsurface irregularities for a simple installation with a smooth true ball roll. Home and business owners alike can enjoy years of fun and entertainment with family, friends and coworkers.
View Our
Tour Quality Synthetic Turf Putting Photo Gallery

PET SAFE
Custom Turf 's synthetic grass is specifically engineered to be safe for pets with a high-flow drainage system. Unlike real grass, synthetic turf doesn't require treatment of pesticides and fertilizers.

MADE IN THE USA
Custom turf is proudly made in the United States of America! The manufacturing plant provides hard working jobs for American workers that produce the highest quality artificial turf in the industry.

REALISTIC LOOK & FEEL
Custom Turf incorporates a unique blend of multi colored blades that mesh together to match the look and feel of natural grass.

UNMATCHED WARRANTY
Custom Turf offers an unmatched warranty, honoring high quality playability and reliability that's kept our synthetic turf products the leaders of the industry since 1996.
Need more information about getting Tour Quality Synthetic Turf Putting installed in your home or business?
Contact our experienced staff for an estimate on your project today!
(716) 945-0283