Indoor Turf for Gyms & Sports Facilities
Indoor Turf for Gyms & Sports Facilities Installation

Choosing the perfect artificial turf can be difficult, as there are many options on the market. If you seek professional-grade synthetic grass consider the following:
Amazing looking: Compare our synthetic turf to real grass.
Ideal drainage: Your artificial turf needs to be able to efficiently drain from downpours of light drizzles.
Top blade density: Texturized polypropylene/Nylon blends provide a strong and dense surface.
Secondary Backing: Foam backing to reduce fatigue and increase surface durability.
Versatility: Our products can be matched to fit any and every athlete.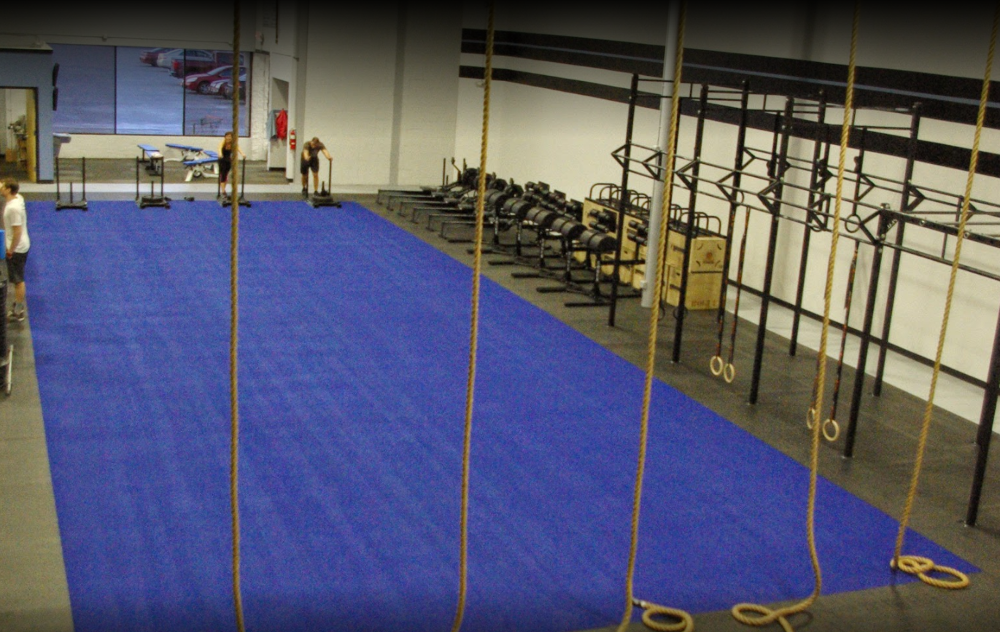 Synthetic Turf for High-intensity Exercises
Custom Turf is the premier artificial turf flooring installers with expertise and experience designing, installing, and supplying artificial turf to gyms, CrossFit facilities and sports training facilities. Our indoor gym turf selection includes football field turf, baseball mounds, bocce ball turf, sports agility turf and much more. We provide only premium quality artificial turf that is soft to the touch yet durable and safe.
Why Choose Artificial Turf for Your Sports Facility
Our Indoor Turf for Gyms & Sports Facilities is safe, high-performing and long-lasting sports surface that allows athletes to train in enduring and challenging ways.
One great benefits of artificial turf is it's versatility:
Synthetic grass is ideal for pulling or pushing exercise sleds.
Our sports turf is sound absorbing which makes it perfect for weight lifting and high-intensity workouts.
Soft and shock-absorbent, our turf is great for speed and agility training because they're easy on the joints and muscles.
The foam backing provides cushion and comfort during high-intensity training sessions.
Endless Design Possibilities for Sports Facilities
Custom Turf's synthetic turf for indoor training facilities offers consistent performance after the repeated usage dedicated athletes require, but with a higher yarn weight for increased usability. The 5mm foam backing provides cushion and comfort during intense exercise sessions. Our turf also provides versatility and portability with the optional velcro system that allows you to take your agility training with you.
Pricing
Synthetic turf and professional installation is calculated by square footage, turf application, labor costs, artificial turf selection the size and scope of project and other factors as well. While the cost of synthetic turf and installation by seem high, once installed, the cost to maintain it is almost nothing, compared to sod or natural grass maintenance.
Service Area
We have installed artificial turf in virtually all cities throughout the Western New York and Northwestern Pennsylvania regions. From Indoor Sports Gyms to Basement Putting Greens, we have worked on residential and commercial turf projects from Bradford, PA to Buffalo, NY – and just about everywhere in between.
Western New York:
Amherst, NY | Bemus Point, NY | Buffalo, NY | Chautauqua Lake, NY | Clarence, NY | East Aurora, NY | Ellicottville, NY | Hamburg, NY | Jamestown, NY | Kenmore, NY | North Tonawanda, NY | Olean, NY | Orchard Park, NY | South Buffalo, NY | Springville, NY | Tonawanda, NY | West Seneca NY
Northwestern Pennsylvania:
Bradford, PA | Eldred, PA | Warren PA
Safe Indoor Turf for Gyms & Sports Facilities
Artificial turf for gyms & indoor training facilities is non-abrasive and provides the traction athletes need to make quick movements without injuring themselves. Our artificial turf system comes with a 5mm foam padding that cushions falls and provides an extra layer of protection between the athletes and the concrete floor.
View Our
Indoor Turf for Gyms & Sports Facilities Photo Gallery

PET SAFE
Custom Turf 's synthetic grass is specifically engineered to be safe for pets with a high-flow drainage system. Unlike real grass, synthetic turf doesn't require treatment of pesticides and fertilizers.

MADE IN THE USA
Custom turf is proudly made in the United States of America! The manufacturing plant provides hard working jobs for American workers that produce the highest quality artificial turf in the industry.

REALISTIC LOOK & FEEL
Custom Turf incorporates a unique blend of multi colored blades that mesh together to match the look and feel of natural grass.

UNMATCHED WARRANTY
Custom Turf offers an unmatched warranty, honoring high quality playability and reliability that's kept our synthetic turf products the leaders of the industry since 1996.
Need more information about getting Tour Quality Synthetic Turf Putting installed in your home or business?
Contact our experienced staff for an estimate on your project today!
(716) 945-0283